SharpNode Home Automation
About SharpNode Home Automation
"SharpNode Home Automation" is a smart device which provide control over every day electronic appliances through smart phone, smart watch, laptop or any web enabled device. By using SharpNode device, you can control your home or office appliances through the Internet from anywhere in the world. SharpNode is not only controlling device but also provides security to your home and workplaces, schedules task and timers, save energy and much more.

The best about SharpNode Home Automation:

You can get the status of your appliances and control them from anywhere in the globe through Internet.
If Internet goes down, don't worry it will work without Internet (up to 50 feet), isn't this a notable point?
SharpNode notify you when something happens (IFTTT configuration) via phone and Email. You can set any conditions like- If you want that if someone tweets you or like your Facebook status then bulb blinks 2 times. You can endlessly create any kind of  IF This Then That recipes.
Access customized dashboard through Android/iPhone app as well as any browser.
Data visualization of sensors in the form of Pie Chart, Bar chart and graphs etc. including data analysis.

Also provide, real time camera streaming on-demand [Add-on].  We support camera of other vendors also. Using our software stack, we integrate them under one dashboard/app.
Meet SharpNode Home Automation device
Features of SharpNode Home Automation:
Provide connectivity to your appliances from anywhere in this world.
Save electricity, 

Prevention of electric waste, Reduction in electricity bills. 

Secure your home when no one is in home.
Schedule appliances as per your wish.
Receive notifications for occurring events.
Optimize energy consuming devices.
Prevent from battery overcharging by automatically disconnecting the charger when mobile or laptop reaches up to 99%.
In built temperature sensor to know the actual room temperature, it maintains the room temperature by switching on-off the cooler automatically.
How is SharpNode Home Automation different from others?
Other applications fail when Internet fails, but with considering this in case of internet failure, our device is operable without Internet within the range of 50 feet.
We provide control and analysis over six appliances (6 switches) at a time without any extra cost.
 Not a single wire of your house will be altered; we do not bring any change to your existing prominent structure of Home.
SharpNode Home Automation is a kind of home automation solution which provides the both manual and application based switching, others provides only application based controls.
Smart phone is not mandatory for appliances control, you can access and control your devices through web browser using your user ID and password. This feature (Web based control) is  useful when your smart phone is not in your hand.
 Price factor and Quality matters a lot and we are very economical without any compromise to Quality. Our product is affordable to anyone.
Installation & post-service:
 Product has two modules. Main module is mounted
on wall above existing switchboard covered in square shape enclosure and another module is placed behind the existing switchboard. Main module consists MCU+WiFi+Sensors like temperature/humidity & PIR. Another module consists 5 relays for different appliances like Bulbs, Fan, CFL and/or sockets and one dimer for fan speed control.
Our one person will install the product on your home. Installation is very simple & can finish within 15 minutes.
Our product provides cloud support up to 3 years. It means, we can remotely change/optimize/debug your device firmware if any problem occurred on your device.
7 Best WiFi Temperature Sensors:
You can check it out here – https://joyofandroid.com/best-wifi-temperature-sensor/
Current status of product: 
SharpNode home automation product has been launched. Please check the PDF for product catalog: https://sharpnode.com/docs/PRODUCT_CATALOG.pdf
Contact us:
Email: contact@sharpnode.com
Phone: +91 8080764943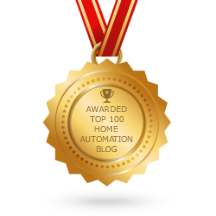 Got the best home automation blog award for this blog – Thank you guys.